| 5 minute read |
Last week OneStream Software announced the release of version 6.0.0. of their modern and unified platform for corporate performance management (CPM). The new release enhances design capabilities, increases performance, and improves ease of use of applications. New features include:
Dynamically Highlight Evaluated Cells within a cube view to automatically display updated values in an existing workbook, a sheet or sheets, external workbooks, and external renamed worksheets.
Use an existing cube view in MS Excel or the Spreadsheet feature within the OneStream App for Windows to create highly formatted reporting by using existing cube view formatting, adding new styles to apply changes to rows, columns, or cells, or a combination of existing styles with new styles.
Insert Suppressed Member which allows you to select a row that is currently suppressed without asking the administrator to change row properties.
Relationship Security which allows you to change the security model to allow who controls the relationship member in the consolidation dimension.
FX Lock Rate which allows you to lock and unlock currency rates, by rate type and time.
Cube View Column Math, which gives the option to perform math on columns when the columns aren't visible.
New XF MarketPlace Solutions
Besides the core platform enhancements, OneStream has released several new XF MarketPlace solutions during the past months. Two of which are particularly interesting and harmonize financial processes from record to decision-making.
Predictive Analytics 123
Predictive Analytics 123 provides a forecast baseline based on historical data patterns. The solution cycles through multiple forecast methods based on Seasonality and Trend to determine the most accurate forecast. Predictive Analytics 123 creates and presents models to support forecasting, prediction, and what-if analysis to determine the most appropriate forecast scenario.
With this solution an end-user of OneStream can administer, use and maintain predictive models without technical or data science expertise. Predictive forecasting can assist with:
The target setting process to support strategic planning and annual operating plans.
Create baseline predictive forecast scenarios for comparison against bottom up, internal forecasting from divisional finance or operational business partners.
Automatically seed new forecasts with predictive models for annual operating plans and rolling forecasts.
Adjust baseline predictive forecasts with known business changes such as new customers, plant shutdowns and new acquisitions.
In summary, Predictive Analytics simplifies, modernizes and automates the planning and forecasting process enabling the necessary time needed for accurate insight and decision-making.
Transaction Matching
Transaction Matching has just been released and is an OneStream XF MarketPlace solution that supports matching of transactional level data utilizing a configurable rules-driven approach for the purpose of identifying and resolving differences. The solution will match any transactions, allows for manual matching, and includes a review and approval process.
Typical use cases for transaction matching in the financial close are:
Subledger matching (AR/AP/Inventory)
Bank statements to the GL
Intercompany matching on transaction level
Accruals
Credit Cards
Open items clearing
Non-financial use cases
OneStream's Transaction Matching solution enables organizations to reconcile faster, easier, more detailed and more accurate while guiding users through the process and delivering advanced analysis and review capabilities. The powerful matching engine supports 1 to 3 data sources and 1 to 1, 1 to Many, Many to 1 and Many to Many matching sets.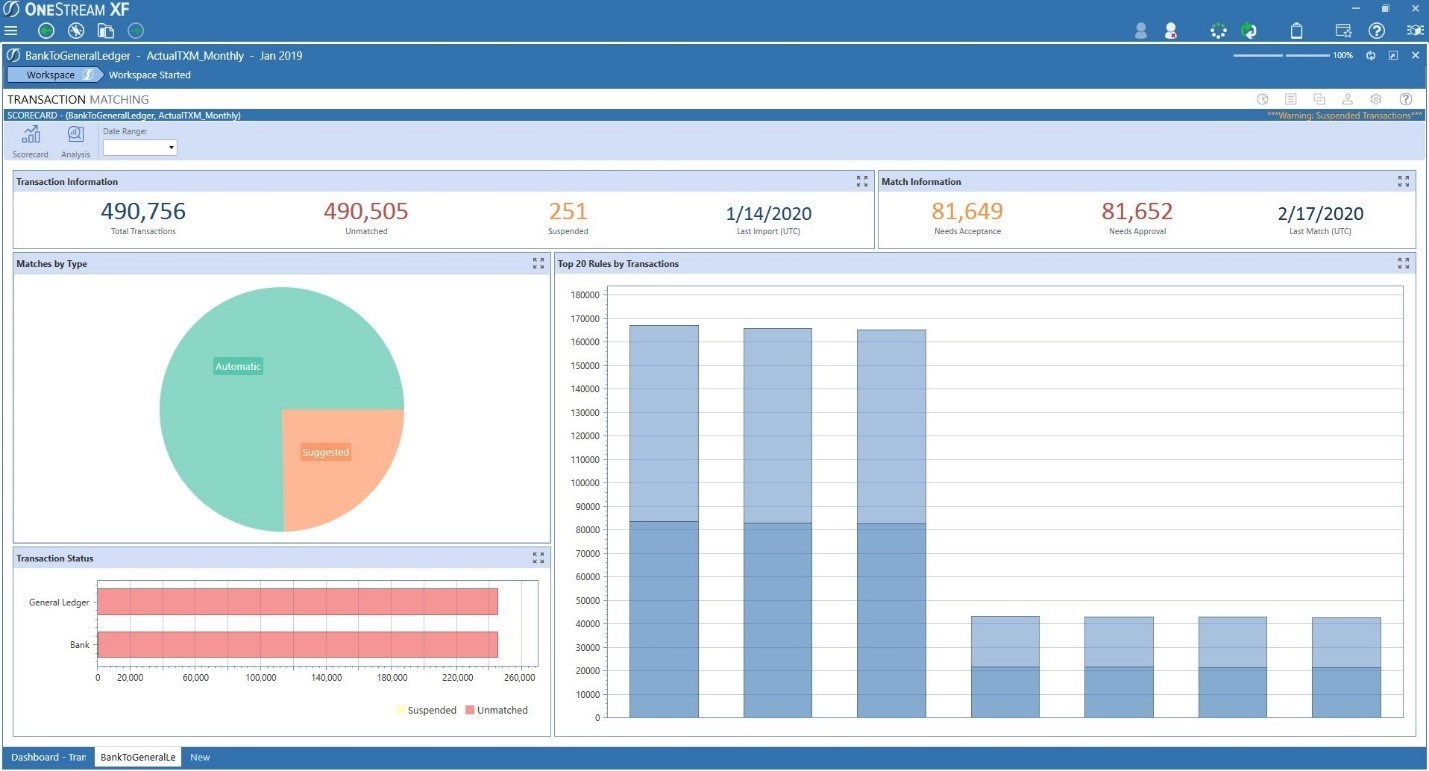 With the addition of Transaction Matching OneStream has strengthened its Financial Close and Account Reconciliation value proposition. This enables OneStream to help customers achieving balance sheet integrity and transparency. Delivering compliance and proving that GL figures reflect reality.
Furthermore, it helps to reduce accounting costs. As otherwise any increase in business will need more people to perform transaction matching and account reconciliation. The automation of transaction matching and account reconciliation processes delivers companies the flexibility and agility to cope with these changes.
And by automating processes based on the risk on a Balance Sheet position it contributes to risk management and financial integrity. Hence, since OneStream offers a single unified CPM platform customers can link Balance Sheet Risk Management in real-time to their Budgeting and Forecasting scenario's considering for example the risk positions in Accounts Receivable for the forecast projections.
How can your organization benefit?
With OneStream XF 6.0.0. and the new XF MarketPlace solution releases, the OneStream platform is extended with new features and solutions for predictive analytics and transaction matching. Instead of moving your data to an analytics platform, or a point solution for transaction matching, OneStream has brought these capabilities into OneStream. This allows bringing in all kinds of high-volume detailed information into OneStream to match, reconcile, report and analyze it within a single platform. This way, you retain all the financial intelligence, governance, workflow and the single version of the truth for financial and operational data that you need for reporting, analysis and decision-making.
With these new features, you can:
Simplify IT landscape – utilize one platform for Transaction Matching, Account Reconciliations, CPM, BI, Analytics and Visualization across all parts of the organization. This allows you to eliminate fragmented tools and reduce the total cost of ownership.
Integrate accounting, financial and operational data – rapid collecting, mapping and loading of large data volumes from external sources. Ability to load subledgers on a transactional level for matching and reconciliation purposes to the GL.
Eliminate latency and replication – no need for moving data into separate tools, causing latency and loss of control.
Increate speed of value – self-service dashboards and reporting allow finance and business users to analyze financial results or operational data super-fast. All can be done using familiar workflows, controls and analysis tools.
Complete transparency – the OneStream platform provides complete transparency and audit trails for all data within the platform; financial, planning or operational data.