SAP Group Reporting has been available for some time now. Principal Solution Architect Iñaki Sota shares his impressions so far:
Initial doubts
It was not without uncertainty that I took the first steps into the new SAP financial consolidation solution, S/4HANA Group Reporting. So many years configuring and working with standalone solutions, such as SAP BPC, led to prejudices and concerns about a tool that is integrated into the ERP system. It is inevitable to have questions, many related to complexity, dependency on ERPs configuration, flexibility for both statutory and managerial consolidation, analytics and reporting, etc.
I believe I was not alone in the uncertainty of how Group Reporting would overcome this concerns and, I have to say, I was gladly surprised to find such a robust, fast and flexible solution, adding up to the concept of Real Time Consolidation, already discussed in previous blog(s).
Group Reporting vs BPC Optimized
The idea of Real Time Consolidation is not new to this tool and neither to SAP, it was already implemented in S/4 with RTC and BPC Optimized.
Although BPC optimized could look more familiar to a BPC mind user (when dealing with features such as journals, ownership manager, rules configuration or controls), it still looked as a big technological collage where all pieces were hardly pasted together. Configuration items could be found in many different places (S/4, BW, WEB IDE, BPC, HANA Studio…).
Group Reporting brings all together into a single tool were everything seems to make much sense. Master data, model, and consolidation engine configuration is intuitive, and allows flexibility. Working with the tool – importing some data and getting your first error messages (unusually very clear, by the way), running some calculations and seeing the logs, running a report in a click and getting a traceability of the consolidated data – reveals the straight forwardness of the tool and how SAP have brought the best practices and experience of previous tools into play in this one.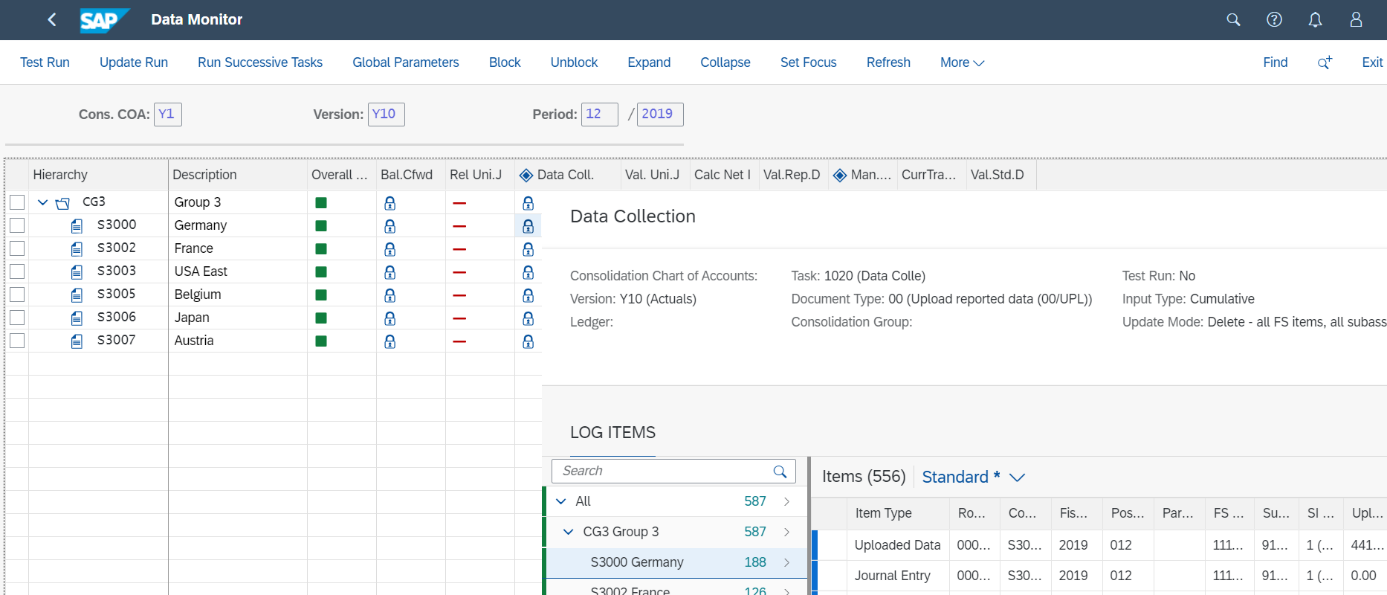 Figure showing the Data Monitor with a log of the Data Collection task.
On top of that, integration with latest analytical reporting tool (SAP Analytics Cloud) seems transparent and very direct, opening a door to a new world of possibilities.
Let me walk you through some features of Group Reporting while I try to clear up some doubts.
Group Reporting Features
There are plenty of features and topics to discuss about group reporting and we will continue discussing them in later blogs as well. Let's discuss two topics related to flexibility first:
Dependency on ERP Accounting Financial Statements
Let's discuss the dependency on the ERP accounting first. Group Reporting provides a new concept called Financial Statement Items. FS Items provides flexibility to increase or decrease the granularity of data in group reports, customizing the exposure of operational accounting data to the corporate group level.
FS Items replaces the old world 'Group CoA' (acts as a typical SAP BPC Account dimension), where customizing Financial Statements are possible. The basic accounting system (ex: SAP FICO) remains untouched by the FS Item.
By directly mapping the legal and management accounting from the universal journal, drilling down from reports to the operational accounting journal is supported.
SAP delivers a comprehensive set of FS items as part of the best practice content. FS items form the backbone of the consolidation process and support many familiar features as:
Attributes relevant for automating the consolidation processes like Currency Translation and Consolidation.
Controls input of further parameters such as consolidation transaction types (flows or movements), Functional Areas, Partner Unit etc. – called Breakdown Category.
Balance Sheet and P&L structure in hierarchical fashion.
You also get a first glimpse of the flexibility available in the system. With the "Assign FS Item Mappings" app, you assign the existing financial statement (FS) item mappings to consolidation versions and effective periods. However, what is a consolidation version?
Even more flexibility using Consolidation Versions
A consolidation version is used for identifying a separate data area in the consolidation database. Versions make it possible to consolidate different sets of financial data. A version may also be created if you want to perform separate methods of consolidation on the same set of underlying data.
For example – You create a version for consolidating Plan Data alongside one for consolidating Actual Data or you may also create a new version for performing Restatement of Actual Data. Further specifications of Special Version allows you to use different methods or rules for achieving the specific Consolidation effect, including elimination rules, validation rules or reporting rules.
Conclusion
Initially I had some reservations about SAP Group Reporting. Would it have the same flexibility compared to (more) standalone solutions like SAP BPC? The flexibility has surprised me. As discussed in this blog, Group Reporting has full flexibility on the Chart of Accounts used and multiple consolidation versions offer many ways to Consolidate your data. In the coming blogs, more features will be discussed which further show the potential and flexibility of Group Reporting. Stay tuned…