More Power under the hood
SAP BPC 11.1 for BW4/HANA 2.0 was recently released. If we look at the SAP BPC frontend, from a purely functional point of view, this new (sub) version of SAP BPC does not offer any major improvements compared to SAP BPC 11.0. So why is there a new version, if there are no functional changes? The answer to this question can be found under the hood: BPC 11.1 runs on BW4/HANA 2.0. This platform offers considerable advantages and is even more powerful than its predecessor. In this blog we will discuss some of these improvements.
Before we go into the details, we will provide you a little bit of background information. SAP BPC 11.1 for BW4/HANA 2.0′, what a special product name, what are we talking about? SAP BPC, stands for Business Planning and Consolidation: this is SAP's current solution for customers who want to implement both planning and consolidation in their organization with the software on their own server (on-premise). This server can be located either locally or in a (private) cloud, such as Azure or Amazon. The addition 'for BW4/HANA 2.0' tells us that this software runs in the SAP BW, Business Warehouse package, with HANA 2.0 indicating that BW runs on SAP's latest HANA application and database platform.
The latest version of SAP BPC therefore runs on a hyper-modern platform, ready for the future. Many new developments in the coming years will all take place on this new platform, which makes it an essential prerequisite to be ready for future updates and developments.
SAP itself presents the innovations in the new BW as follows. In the images below we explain a number of innovations: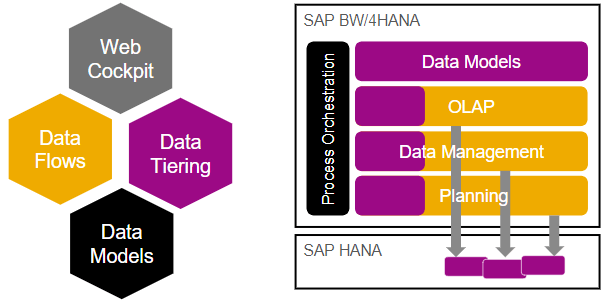 Web cockpit
The new web cockpit is based on SAP Fiori (the well-known tiles) and gives access to a large number of management tasks. With a powerful search function, the BW objects can be searched and opened. Master data can also be edited via the web cockpit. In addition to master data, HANA views can also be opened.
BW/4HANA Modeling Tools in Eclipse
In addition to the web cockpit, a large part of the development work takes place in the Eclipse modeling tools (HANA Studio). In the previous version, the possibilities were still a bit limited. This has now been repaired. Process Chains and Currency Translation Types, for example, can now also be created and edited here. Another powerful option is the Remodeling option, with which objects in a DSO can be automatically replaced by other objects.
Data Integration
An interesting addition, in terms of data integration and development, is the possibility to write data directly to standard DSO's (datastore objects). For example, there are more possibilities to write back data to BW from SAP Analytics Cloud.
Analytic Engine
Since the first version of BW4/HANA, SAP has been moving more and more calculations to the HANA in-memory engine. In this way, more and more parts of BW are becoming faster and faster. In BW4/HANA 2.0 even more calculations are transferred to the HANA database, so that various reporting functions can take place much faster. This applies to the TopN, BottomN, LessThan, GreaterThan, NotBetween functions in a report.
Also, much more chart types can be used in SAP Analytics Cloud with live connections to the BW system, such as the Waterfall Chart, Geospatial, Time Series, Variance Chart, Linked Analysis with more than one dimension, Conditions and the Tuple Filter.
Conclusion
The new version of SAP BPC 11 has no direct functional benefits at this time. However, the underlying platform is fully up to date again and therefore offers sufficient possibilities for new developments. Especially for organizations that use a wider landscape of SAP products and/or also use BW directly. In addition, SAP offers support on BPC 11.1 until 2024, while the 11.0 is only supported until 2021. The transition to 11.1 and the new BW4/HANA is therefore not entirely optional, but an important condition for maintaining SAP support in the long term.