How does ESG affect The Role of the CFO?
5 April 2023 – written by Rutger de Roo van Alderwerelt
In previous blogs, we discussed current developments and companies' challenges in ESG reporting. We focused on the new corporate sustainability reporting directive (CSRD) and the data collection and management challenges this brings to your company. Now, you may ask yourself the question, how does all of this affect my company's organisational structure?
Many large companies already voluntarily report their sustainability performance, leading to the rise of heads of sustainability and sustainability teams. They set and manage sustainability objectives and report their performance. CSRD shifts ESG reporting to a mandatory process. Additional topics, like audibility, governance, and quality control, will need to be at the same level as financial reporting. With this knowledge, finance departments are paying close attention to developments in ESG reporting, specifically, their Chief Financial Officers (CFOs).
CFOs have an eagle-eyed view of the company, overseeing financial and non-financial performance. By leveraging expertise in financial reporting and keeping a sophisticated data infrastructure, finance departments can pursue integrated reporting processes across all departments. An integrated reporting process ultimately leads to improved company insights and strategic decision-making. CFOs can better align sustainability goals with profitability goals. This alignment uniquely positions CFOs to communicate the sustainability performance's impact on the company's value creation to external stakeholders. However, this may also increase the dilemmas a CFO faces when making strategic decisions.
Making a CFO responsible for sustainability performance adds many topics to their responsibilities.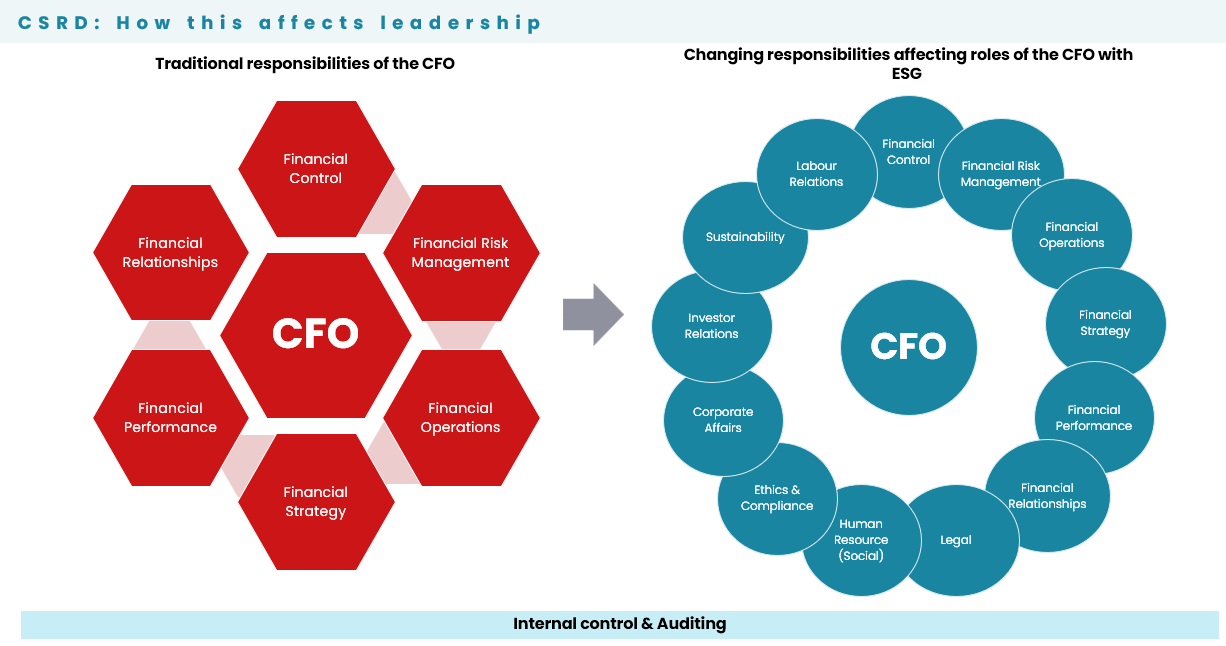 Knowledge gaps in these additional responsibilities affect financial and sustainability performance alignment. This prevented investment and efforts into sustainability performance under existing regulations. CSRD will change that for many companies; whether they have an intrinsic motivation to adopt sustainable business practices or not, reporting on their sustainability performance will be mandatory.
Many details regarding what companies need to report are not yet published. This makes it difficult for companies to prepare for these new responsibilities, let alone make the necessary changes to their organisational structure. In anticipation of what needs to be reported, companies can acquire knowledge about prominent sustainability topics and invest in a double materiality assessment. The latter is a requirement of the CSRD. It means assessing their business operation's impact on sustainability topics and how they can impact their business operation.
CFOs and Finance departments have plenty on their plate with existing reporting processes, yet they have the most relevant knowledge and skills to pursue an integrated reporting process. It will require obtaining more sustainability knowledge and possibly hiring sustainability experts that will either be part of the finance department or work closely with them.