What is SAP S/4HANA for Group Reporting?
SAP Group Reporting is the new consolidation solution for SAP on the S/4HANA platform and is available as a cloud and in 'on-premise (on own server)' version. SAP Group Reporting runs directly on the financial data in the S/4HANA Finance system and enables direct consolidation without having to transfer the data. This makes a posting in your administration directly visible in the consolidated figures. If part of your organization is not working in the S4/HANA Finance system, the data can be loaded via the SAP Group Reporting Data Collection module. If you want to visualize and present the figures, or add advanced planning & forecasting, the system connects directly to the SAP Analytics Cloud. SAP positions Group Reporting as their new, strategic solution for all customers who want a future-oriented, complete solution. Much is invested in giving this new solution all the functionality, power and experience of all other SAP consolidation solutions. The goal is to provide your organization with the most powerful solution on the S/4HANA Finance platform.
How does SAP Group Reporting work?
SAP Group Reporting retrieves its data directly from your S/4HANA system, possibly supplemented with external data and manual specifications. After this, the data are validated in accordance with your own requirements. Followed by a currency conversion, possibly manual journals and of course a consolidation to your group structure (or different structures). This consolidation can take place as a matrix, for example by entity, but can also consolidate cost centres over the same data. Of course, this also includes intercompany and equity eliminations.
After that, you report using Embedded Analytics, Analysis for Office, SAP Analytics Cloud, or Disclosure Management. A reporting solution is available for every purpose.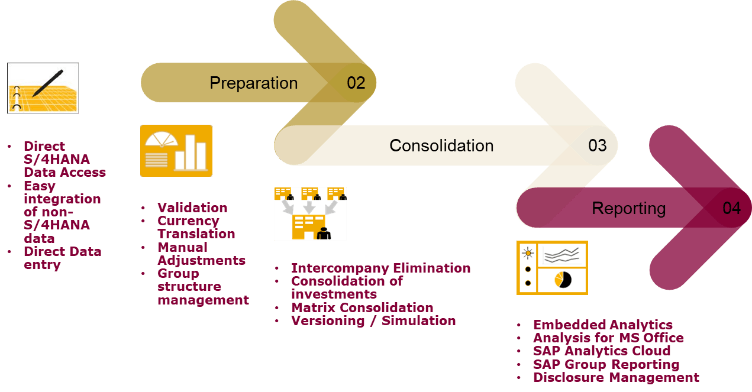 What are the benefits of SAP Group Reporting?
In SAP Group Reporting, SAP has combined much important, useful functionality from their current and previous consolidation solutions. The best features of SAP BPC, BCS, RTC and BPC Optimized are combined on a powerful platform with direct access to the financial and non-financial underlying figures. SAP Group Reporting offers the following advantages:
The broad, best-practice functionality provides a process-driven, proven approach;
Direct access to the accounting system enables faster closing with direct insight from single posting to consolidated figures;
Full integration of operational, local data up to consolidated group data, including drill-down;
Very strong integration with a wide range of SAP reporting solutions;
Developed as a cloud solution, but can also be installed locally;
How does SAP Group Reporting relate to SAP BPC?
Not so long ago, we presented you with the latest version of SAP BPC: SAP BPC 11 for BW4/HANA. With SAP Group Reporting another new SAP solution for consolidation is available. Which solution would be best suited for your organisation? Although the answer is not always black and white, the following advice can be followed for most organisations:
If your organization has a S4/HANA Finance environment, and this is also the most important source for your financial data in that case, SAP Group Reporting, often combined with SAP Analytics Cloud, is a good choice;
If you are looking for a local/on-premise solution for consolidation (and/or planning/budgeting) and you have a large number of source systems, SAP BPC 11 is a good choice.